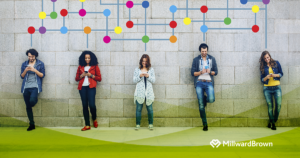 Image Source: Millwardbrown
If there is an industry constantly changing at a very rapid pace then it will have to be social media. In fact, the pace at which it changes makes it even hard for dedicated experts to stay up to date with all things social media. From year to year, there is always something new coming, be it consuming preferences, a new software or even a new platform and 2016 was no different. That being said, this blog post will get to highlight some of the biggest social media trends in 2016 that had digital marketers all over the world talking.
Live Video Streaming
Prior to 2015, many people didn't pay too much attention to live video streaming services, in particular, the effect it will have on social media. However, all that changed very fast a few months into 2015 following the acquisition of popular live video streaming app Periscope. Fast forward to 2016 and live video streaming is quickly becoming the next big thing in the social media world with players such as Facebook offering their very own live video streaming service this year. So why is it important? Well, other than keeping users on their platform, it's effective, direct and offers an easy way for brands to interact with their audience.
Social Media & Commerce
Ever since it's introduction, especially after it became commercialized, there hasn't been any doubt on the role social media plays when it comes to business sales. In fact, a study done back in 2014 showed that business sales tracked to social media reached an impressive 3.3 billion.  With such figures, social media platforms are working on making it easier for advertisers to display their products. This intensified even more come 2015 and 2016 as they improved their advertising features and options. For example, Facebook introduced 360 Ads for immersive experiences while YouTube introduced 360 Ads for more impactful visuals. This two were not the only ones, Twitter, Instagram and Pinterest also went the same direction.
Moving More & More To Mobile
In 2016, we saw something that has been gaining speed over the last couple of years taking shape really well and that is social media platforms trying as much as possible to make their platforms mobile friendly. Instagram and Snapchat do stand out when it comes to matters mobile optimization. In fact, Snapchat is known for not having a desktop version while Instagram has one but is not as good if compared to its mobile version. In fact, they do encourage you to use their mobile version for a better experience. The other two social media powerhouses, Facebook and Twitter, also followed this trend in 2016 by introducing new functionality changes and layouts aimed at audiences accessing their platform using mobile devices.
Faster Response Time
A fast response time is something that has dominated the social media world throughout 2016. In fact, you should expect this trend to continue come 2017 as more and more social media users expect brands and businesses to respond to their questions and queries fast, preferably within 2 hours or less. Although the numbers (response wise) are not out yet this year, it's believed that they might be slightly better compared to 2015. In 2015, there were more than 900 million complaints on social media about different brands concerning their response time. In addition, 7 in 8 messages sent out to brands via social media platforms went unanswered in the first 72 hours.
By Arnold Obat