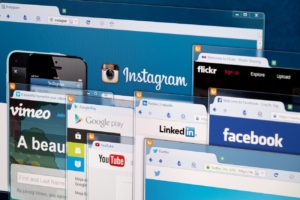 Image Source: Assets Entrepreneur
By Arnold Obat
One challenge digital marketers face on a yearly basis is keeping up with the ever-changing social media trends. In fact, it's not rare to find digital marketers going on and on about the fast pace world that is social media given the rate at which things change. So how can you work around this? Well, one way is to try as much as possible to be aware of what's happening socially. To help you stay on track with this ever changing world, this blog post will forecast some of the biggest social media trends in 2017 you should look out for.
Expect The Numbers To Increase
One thing that is obvious come 2017 is the fact that the number of social media users is going to increase significantly. In terms of stats, it's estimated that this number will increase by 8% to 2.3 billion people in 2017. Yes, 2.3 billion people, imagine the possibilities this number offers to you as a digital marketer or the brand you represent. To make things even better, this number is bound to increase in the coming years because we humans love to connect with other people be it friends, family, celebrities or even businesses.
Increase In Snapchat Like Expiring Content
When launched Snapchat introduced an interesting feature for its users, disappearing stories. If you are using Snapchat, you can decide when that content is going to expire. Given the positive reviews it's received from users ever since its launch, this feature has caught up really quick in the social media world with other social media powerhouses like Facebook, Instagram, and WhatsApp embracing it. That said, you might just see an increase of this come 2017 with all the major social media platforms.
Chatbots
I know it's a bit bold but I am going to say it. Chatbots might actually be one of the biggest trends in social media come 2017. In fact, the change is already happening. Top social media platforms like WhatsApp, Google and Facebook have already introduced integrated bots that help with their bookings and customer service tasks. Once introduced to the public and if properly used by digital marketers, businesses, and brands, these bots can help free up customer service representatives by answering simple and common questions users always ask.
Live Video Streaming
This year, live video streaming slightly took off with major social media platforms like Facebook introducing live video streaming services to their users, be it for celebrities and other well-known personalities. So what can we expect in 2017? Well, the goal of almost all social media platforms is to keep users online and what better way to do that than with video. With that in mind, it only seems logical that we are going to see a lot of this come 2017, especially from Facebook. As a digital marketer or a brand, you can position to exploit this feature to your advantage once its rolled out.
Twitter's Future
Our final social media trend forecast for 2017 is about Twitter. I believe it's safe to say that Twitter didn't have a very good 2016 or 2015 for that matter and looking forward things don't really look that bright come 2017 and as such, you ought to plan for Twitter in the coming years and what to do in an event something does finally give.