By Dez Duran-Lamanilao
For brands trying to reach out to their customers, one of the major issues they face is how to communicate with them on a more personalized level. After all, effective brand marketing is not just about appealing to your target audience but also about being able to send your message across in a manner befitting of the brand's image and getting a conversion in the process. As the digital world becomes more innovative and demanding, messaging platforms can prove to be a welcome solution to various brand management challenges.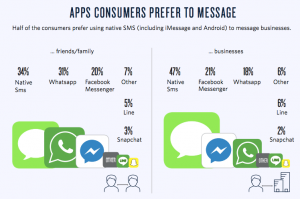 Image source: BizReport
Data from eMarketer reveals that the average time US adults spend per day with various mobile messaging apps has increased from six minutes in 2015 to around 10 minutes in 2017. That 10 minutes is forecasted to grow to 11 in 2018 and 12 in 2019. These users make them an ideal market for businesses and brands to target, given the growing difficulty to leverage Facebook and other social media networks.
Below are some of the best messaging apps that brands can use to reach out to their followers:
While messaging apps are a great way to communicate with existing and prospective consumers, brands should be ready to deal with the continuous threats posed by innovation and the increasing attempts to lessen the reliance of consumers on apps in general.