By Dez Duran-Lamanilao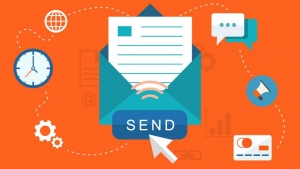 Image source: PCMag
If you want to improve your online brand presence and build meaningful relationships with your customers, email marketing may be an ideal way to start that much-needed move. Contrary to others' likely misinformed perception of this strategy, you are actually hitting way more than two stones with a perfectly designed and well thought newsletter:
Subscriber engagement. You get to connect with your loyal subscribers and reach out to potential ones with one click.
Better customer retention. According to a report by Small Business Trends dated October 2016, 80% of small businesses rely on email marketing for customer retention and 56% of survey respondents described it to be the most effective means of reaching customer recall goals.
Increased revenue. Findings of The Relevancy Group in April 2015 reveal the belief of surveyed US marketing executives that email alone drives the same amount of revenue when compared to combined social media, website, and display ad initiatives.
Capability to monitor results. A wide range of metrics are available to monitor your results; some of the most important ones include ROI, deliverability, click-through rate, conversion value, subscribers vs. unsubscribes, and web traffic.
More savings. Compared to mainstream marketing, email marketing is definitely less expensive. Cost is dependent on the email's complexity, content, template, artwork, and so on.
Easy to create and share. Compared to other below-the-line (BTL) activities, email marketing requires less manpower and budget.
Email marketing has many functions, depending on your brand's current needs:
Update your customers with the latest company news.
Warmly welcome your new customers to the community.
Send targeted and personalized invites whenever you have an event.
Inform them of your special offers and promotions.
Update customer information
Collect feedback
Launch a new product or service
Simply connect with your followers and let them know you are thinking of them.
Whatever your goal is, email marketing can do the work for you. Choose a partner that can come up with creative and high performing newsletters so there is less workload but more result-generating output.