By Dez Duran-Lamanilao
Two years ago, Facebook dominated the social media world with 1.7 billion users as of September 2016. Fast forward to October 2018 and it seems that it hasn't lost its touch, with 2.2 billion users, but now followed by YouTube, with 1.9 billion users, replacing WhatsApp. YouTube was a revelation this year, since it was not even included in the Top 10 list back in 2016.
Most Popular Social Media Networks (Worldwide) as of October 2018
Ranked by number of active users (in millions)
Source: Statista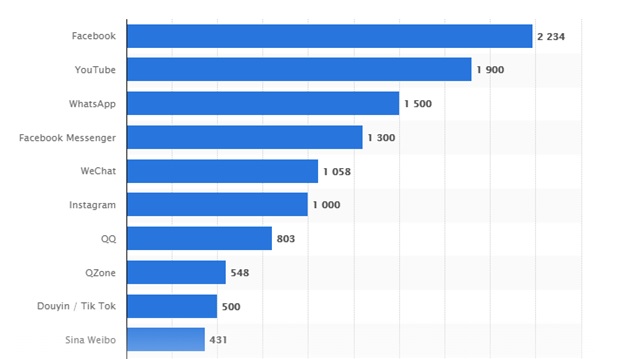 Three new networks entered the Top 10: YouTube, Douyin/Tik tok and Sina Weibo, replacing microblogging website Tumblr, which used to be a favored platform for brands because the content can be customized to make it a more personalized one. Unfortunately, Tumblr was unable to maintain its position even if Yahoo acquired it for $1.1 billion back in 2013.
News and social networking service Twitter's ranking also went down, which in mid-2018 decided to cut fake accounts. Chinese communication platform Baidu Tieba, which in 2016 was involved in the scandal revolving around Wei Zexi, the 21-year-old cancer patient who died after finding misleading information on Baidu, also faced criticism in terms of business ethics.
For video sharing company YouTube, its success can be mostly attributed to giving your brand's audience, followers and users the chance to experience in a way even graphics and probably the most eye-catching text cannot compete with. Chinese short video app Douyin, known as Tik Tok outside of China, is dominating Chinese and international screens – another testament to the power of using videos for your brands. Chinese microblogging site Sina Weibo boasts of surging stocks and increased advertising sales and revenues.
What do these popular networks have in common? They are keeping their customers satisfied and are continuously finding ways to give them an experience that only they can provide. The same holds true for your brand. Loyalty is hard to achieve, and even harder to keep. But with the right partners, marketing strategies and creative content, everything may all be worth it in the end.