By Dez Duran-Lamanilao
Social media websites have largely influenced how people communicate and socialize on the Internet. In my previous post, we focused on cloud computing. As businesses put emphasis on both cloud computing and social media to grow their brands, let's look at the social networks that dominated the first three quarters of 2016.
The following are the top 11 social networks worldwide as of September 2016, according to online statistics portal Statista. The networks were ranked based on the number of active users.
Number of active users in millions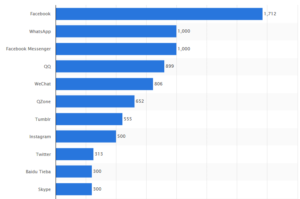 Facebook. The first social network to surpass 1 billion registered accounts, Facebook allows users to create their own profiles, add other users as friends, send and receive messages, post status updates and photos, and share links and digital videos.
WhatsApp uses the Internet to make voice and video calls, send text messages, photos, audio files, and other file formats to other users using standard cellular mobile numbers.
Facebook Messenger allows Facebook users to chat with friends both on Facebook's mobile and desktop versions.
QQ, less popularly known as Tencent QQ, offers various services including online social games, music and microblogging.
WeChat provides text, hold-to-talk and broadcast messaging, video conferencing, video games, and photo, video and location sharing.
Aside from QQ and WeChat, Chinese investment holding company Tencent also developed QZone, which allows users to write blogs, keep diaries, send photos, listen to music, and watch videos.
Tumblr allows users to post multimedia and other content to a short-form blog.
Instagram enables users to share pictures either publicly or privately and through other social networking platforms including Facebook, Twitter, Tumblr and Flickr.
Twitter is a news and social networking service where users post and read short, 140-character messages called "tweets."
Baidu Tieba – the largest Chinese communication platform that features an online community bound tightly with Internet search services
Skype ­– an application that provides video chat and voice call services and allows users to exchange digital documents such as images, text, videos, and many others
These social platforms have become an integral aspect of digital marketing in their ability to offer organizations important data about their customers' preferences and feedback. They are expected to make bigger presence in 2017, as demonstrated by their continued efforts to grow their customer base.