Having a website has now become an essential element in every company's marketing strategy. It is obviously one of the fastest ways to reach out to potential and existing customers to launch a product or a service, inform them of the latest news, or provide vital information about the company.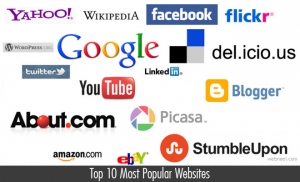 When it comes to popularity, Google is the most preferred site in most parts of the world, except for some places, such as China (where QQ and Baidu dominate the Internet space), Russia (where Russia's social networking site VK is used instead of Facebook), and Vietnam, which has its own search engine via its web browser, Coc Coc.
Here is a rundown of the Top 5 most visited sites in the world:
What do these sites have that make them unique and popular? Consider the following factors when you next plan on having your own or redesigning an existing website:
Who owns the website and what it does. Unless the site is already as popular as the ones listed above, visitors need to have a clear grasp of what they are looking at for better and faster engagement.
Easy to use. Too much crowded information and links will make the site intimidating.
Visible contact details and business location. One of the key reasons a consumer visits a site is to contact the company. Without these details, you might be losing something vital in terms of feedback, prospective clients and many others. Show links to your social media platforms as well.
Fast loading time. The quote "Patience is a virtue" will not apply to most of your visitors. Make sure that they do not linger on closing that window anytime soon.
Tactics that will entice users to visit the site again
Optimized for mobile visitors
A cleanly-designed website that has well-characterized ideas, content and graphics is the perfect way to represent your business online.
By Dez Duran-Lamanilao