By Dez Duran-Lamanilao
Every organization's nightmare is having to deal with a public relations (PR) crisis. Whether the blame is solely on the company or on a third-party, the fact remains that the brand needs a PR crisis management team, and a strong one at that. After all, it is quite a challenge to please your customers, and even a greater feat to pacify an angry group of loyal ones. Social media is a powerful tool that a marketer may make use of, given its sphere of influence to the knowing public.
As all managers and marketers alike will agree, no business is exempted from negative feedback. Probably the best way to deal with this nightmare is filling your social media platforms with positive content while keeping in mind the time-tested adage that honesty is still the best policy.
Look at how fast food restaurant chain KFC dealt with an unimaginable PR nightmare: running out of chicken to serve the needs of their UK market. The Great Britain is the biggest European market for fast-food chicken, according to global business intelligence and market analysis provider Euromonitor International. You can just imagine how KFC executives initially responded to the news of their stores running out of… well, chicken.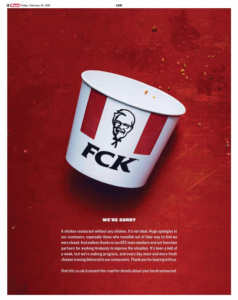 While their initial attempt to solve the problem was not that successful, KFC's full-page ad apology that appeared in the Sun and Metro papers appeased the questioning public and may have probably added plus points to their PR team in return. In fact, social media reacted positively to KFC's apology advert, calling it "cheeky" and "(the) best apology ever." And when it reached social media, the rest is history.
Having a strong social media presence is a strong foundation that every brand should pay careful attention to. Use this foundation to boost your brand image and in the case of KFC, to fight negative publicity. What positive avenues did KFC follow to deal with their nightmare? Their management and PR teams apologized and treated the weakness as an opportunity to convince their advocates that their reputation is worth fighting for.