By Dez Duran-Lamanilao
In our article that talked about the trends used by brands in various social platforms last year, experts have expected that live video, social messaging and social media e-commerce are likely to dominate in 2017.  A look at the latest 2018 Latest Social Media Marketing Industry Report by Social Media Examiner, released in mid-2018, reveals how marketers plan their future strategies with organic and paid media, among many others.
In the figure below, Facebook continues to reign the list of the most used social networks, according to more than 90% of the almost 6,000 marketers surveyed. Instagram and Twitter came in at second and third places, respectively. It may be noted that Twitter has suffered a loss in popularity and even decided to cut fake accounts in mid-2018, such that it was not able to join Statista's 2018 Most Popular Social Media Networks.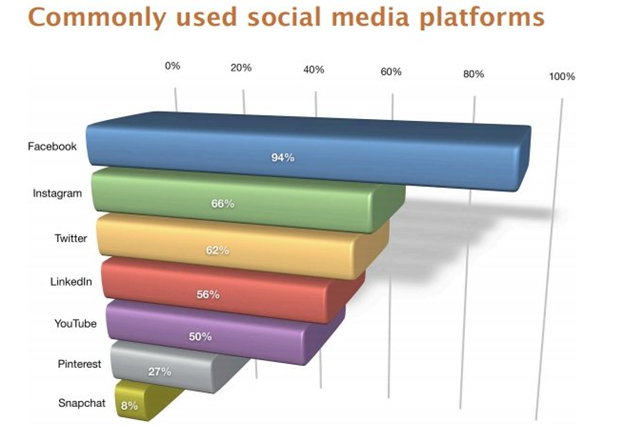 Image source: Browser Media
Organic Reach vs. Paid Social Media Advertising
Paid advertising in Facebook is one of the most proven tools if you want to achieve your campaign objectives. But how do you differentiate organic from paid? Organic search is based on unpaid rankings that can be determined by search engine algorithms and are based on each site's merits while paid advertisements are bought rather than earned. This allows the marketer to promote its ad when someone types in specific keywords or phrases. In the case of Facebook, paid advertising will mean promoting your important social media ads to your chosen target market for a specified period of time for a particular fee. Metrics vary when you want to determine paid from organic. The important thing is your marketing campaign or material must be good enough to merit likes, views, shares and finally, purchase conversions.
Social media has definitely come a long way in becoming the obvious choice for businesses to build an audience and establish relationships with existing and prospective customers. Their end-goal is always the same: improved or increased conversion activities. It comes with a price though, and requires the right material, perfect timing and strategic selection of your customers. To achieve all of these, a marketer should learn how to maximize the brand image and spend money wisely, such that it becomes effective for both the brand and the company.